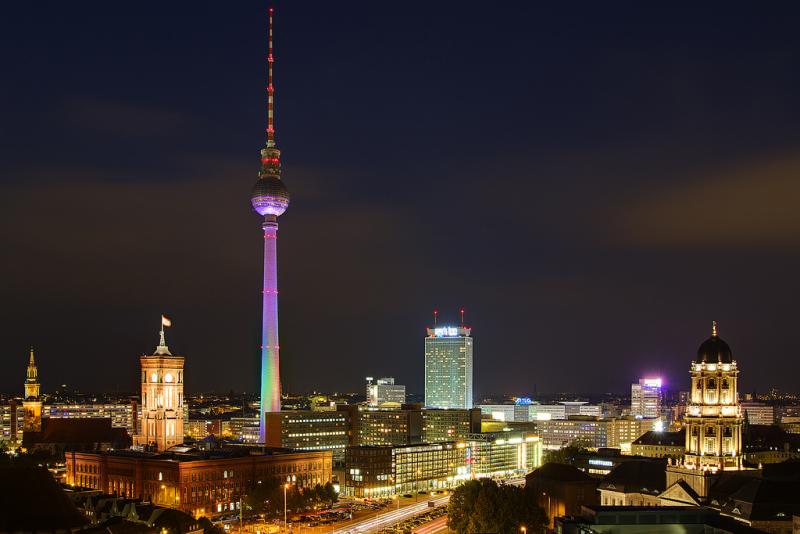 Berlin is one of the most exciting cities in Europe. Please find below some information to make your stay even more pleasant and enjoyable.
CURRENCY
The official currency in Germany is Euro. While Visa, MasterCard, and Maestro are accepted at most shops and restaurants, cash is welcomed everywhere. Most restaurants do not allow split checks on multiple credit cards, so be sure to carry cash while dining out with large groups! Tegel airport and Schönefeld will have an ATM for quick cash. View current exchange rates.
POWER
If you are a visitor from outside of Germany, be sure to bring a 230v power adapter (plug type F), to ensure your laptop does not run out of battery on the first day! If you forgot your adapter, ask your hotel's front desk for help.
WEATHER
As Berlin enters the month of June, it welcomes the summer season. The daily high temperatures range from 17°C (62,6°F) to 22°C (71,6°F). Sunshine hours have picked up to a pleasant 11 hours a day, and rainfall has dropped to 14 days out of the month. There may be a chance of rainy weather, so make sure to pack an umbrella or rain coat!
FOOD
Berlin is a melting pot of cuisine from all over the world, you can find anything here, from street vendors to fine dining, coffeehouses, breweries, and bakeries.
The city's most iconic food is still the Currywurst. Locals head to Konnopke's Imbiss next to Kulturbrauerei for the classic version, where the first ever Currywurst in the East Berlin was allegedly served half a century ago. For more elaborate recipes head to Curry & Chili, where you can taste some of the spiciest currywurst with their best registering 7.7 million on the Scoville heat scale. If you want to try other traditional German dishes (Schnitzel, Bouletten, Käsesplätzle, etc.), check out Imbiss 204 (only a 10-min walk away from the #bbuzz location!) with their traditional and affordable take on German cuisine. Or head over to Sauerkraut on Rosenthaler Platz to taste a new editionof well known German food classics like wurst, sauerkraut and strudel!
Another typical Berlin street food is the the döner. You find them all over the city, but Mustafa's Gemüse Kebap is worth queuing. There are numerous kebab shops around U-Bahn Eberswalder Str., close to the #bbuzz location (e.g. Ali Baba, K'ups Gemüsekebap, or El Rief).
Burgers and other home-made fastfoods are taking over the city, so if you're a burger lover there are multiple options you could try out. A good burger find in 15-min walking distance from Kulturbrauerei is Marienburgerie that offers a vast selection of classic meat and vegetarian burgers for a reasonable price. Another popular burger jam is Tommi's Burger Joint, a few tram stops away in Mitte neighborhood.
Berlin is a great place for vegetarians and vegans. There is no other city in Germany with such a wide range of veggie-friendly meals, sweets, cakes and coffee specialties. From vegan kebab at Vöner to vegetarian/vegan Vietnamese food at Chay Viet, virtually every restaurant offers vegetarian and vegan options. If the restaurant is full, you can wait, or you can wander around - there are plenty of street vendors, cafés and restaurants all over Berlin!
DRINKS
Looking to celebrate your time in Berlin after a long action-packed #bbuzz day? There is a couple of options in the Prenzlauer Berg neighborhood in 10-min walking distance from the Kulturbrauerei. Wohnzimmer is the one for cozy atmosphere, affordable beverages and small food (also a good choice for breakfast!). If you're looking to splurge on great cocktails, Bryk Bar or Becketts Kopf would be the right choice for you. Extensive liquor menus and professional advice on the beverage choice included.
MUSEUMS & SIGHTS
Berlin's turbulent history is reflected in its many landmarks and monuments. The city has been ripped apart for nearly 50 years by the Berlin Wall and still picking up the pieces today. Berlin is noted for its cultural flair and diversity in arts. For the first-time visit to the German capital, the city's top rated attractions such as Alexander Platz and the TV Tower, Brandenburger Tor and Untern der Linden street are highly recommended. You can look through the full list of Berlin's most prominent sights here. If you're planning to go all in on the tourist attractions, consider getting a Welcome Pass to save up on museum entrance fees, public transportation and more.
Moreover, Berlin's capacity for technological prowess and engineering makes it truly a geek's paradise. You should start with Museum of Technology with its massive exhibition spaces devoted mostly to the history of technology and pay a visit to a nearby located Science Center Spectrum, where you can spend all day experimenting in various fields (e.g. electricity and magnetism,
mechanics and motion, light and visions, and many more). Perfect place to bring your kids!
Berlin's Computerspielmuseum (museum for computer games) boasts of an impressive game collection with its 300+ exhibits, including playable classics and rare originals. The organizers promise to turn every visitor into Homo ludens digitalis and encourage everyone to cast off an existing stereotype of a gamer and create your own vision for this medium of entertainment. Furthermore, as recently announced, Computerspielmuseum along with Entertainment Software Self-Regulation Body (USK) and Digital Games Research Center of University Potsdam will bring their vast collections together to open up the biggest computer games library worldwide.
If you still have some time on your hands, there are multiple hacker spaces spilled across the city, where you can network and chill with like-minded individuals. Berlin is also home to Europe's largest hacker association – The Chaos Computer Club e.V. (CCC), which you should check for events and meetups. Don't forget to check with your #bbuzz calendar as there will be multiple meetups hosted by our partners during the conference.
PHARMACY
There are two pharmacies close to the venue of Berlin Buzzwords. The "Apotheke zum Kreuz" in the Kastanienallee and the "Schönhauser Apotheke" in the "Danziger Straße". Both are locatedwithin 10 minute walking distance from the Kulturbrauerei. They are easily recognized by the big red letter "A" (for the German word "Apotheke") above the door.
PASSPORTS & VISAS
All visitors to Germany require a valid passport to enter the country. If you are a citizen of the European Union, the United States, or your country is a party to the Schengen Agreement, you should not need a visa in addition to a passport to enter the country if you plan to stay in Europe for less than 90 days. Be sure to check with your country's embassy to determine if you require a visa to travel.
Berlin Buzzwords is happy to issue an official letter of invitation to attendees who require a letter to obtain a visa for travel. If you do need a letter to apply for a visa, we encourage you to request one as early as possible. You must be registered prior to requesting a letter.
Photo: cc-by-sa 2.0 Marcus Klepper